Armada Chain Retail Point of Sale Software.
Armada multi store POS is the best and offordable software solution for your business needs. Easly add new outlets as you open. Easly check real-time inventory across every store

Order Management
Armada Retail chain POS has a strong order management system that optimizes your inventory by making it available to your customers wherever and however they choose to shop with you. customer order history will be reflected in each branch that gives powerful features to main customer loyalty easily to shop from any outlet.

Inventory Management
Armada Chain retail POS, multi-store inventory gives a centralized platform from which you purchase, receive and transfer stock for all your store locations. From importing, re-ordering, store replenishment, stock transfers, fulfillment, centralized product administration, price, and promotion management – we make it easy - the way retail should be!.

Web Reporting
Armada Sync module fetch all orders data from each outlet to a centralized web platform that is accessible from anywhere. Save time with reports that explain your business progress and projection to you. Access valuable data in real-time to make informed decisions for your business. get a customized report of each branch easily like daily, weekly and monthly
Armada Chain Retail POS key Features
Reporting in the Cloud
Auto synchronizes data from each store and checks your sales reports from anywhere. easily check sales reports how stores are performing, what products are selling most and know when and what was sold, including server productivity reports
Fast Data Transfer
Easily transfer data from one store to another that gives you fast access to user history. Customers can redeem their loyalty points in any store as their data is transferred automatically from store to another.
Easy Accounting Integration
Easily integrate Armada Accounting ERP with any point of sale system for streamlined sales, in-depth data reports, and simplified day-to-day operations. data from the POS system automatically syncs with Armada Accounting ERP each day so that your accounting system is updated for you.
Reordering Features
Our retail chain pos have extra features auto reordering it is very easy to use and helps retailers to order based on different metrics just by a single click. you can easily setup reorder points and desired inventory levels
Inventory Management
It's difficult to keep product performance and sales separate between locations but also under one system. Armada retail POS makes that easy. Changes to inventory will be reflected in real-time and you can manage inventory by individual location or by your entire operation.
CRM
Armada CRM system collects information from the current POS system and turns it into data that can be analyzed for better business decision making. Armada system saves time and money by automatically extracting data when the customer completes a transaction at the terminal.
Stock Notifications
Get detail notification of items that are low or out of stock. easily set notification for items that fall near or below the desired range you set. Manage your Supply and Inventory with Stock Alerts
Employee Permission Levels
Armada Retail POS is a very flexible system that have strong features like employee permission or access level. you can easily assign different roles to an employee with one click. another feature is group-level access that will affect all employee that falls in that group.
eCommerce Integration
Our POS system is very flexible to integrate with different shopping cart systems such as Magento, Opencart, Shopify, and woo-commerce. get a complete order transaction report in your POS system that is placed in eCommerce.
Armada Multi-location Point of Sale Software
Are you running a multistore!. Don't worry Armada Chain retail POS software is designed with a passion that handles multi-store easily. Our sync module advantages are to share information between multiple stores to give you fast access to your data all the time at all of your locations.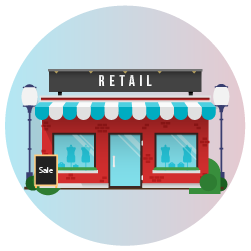 Request a Chain Retail Demo / Quote